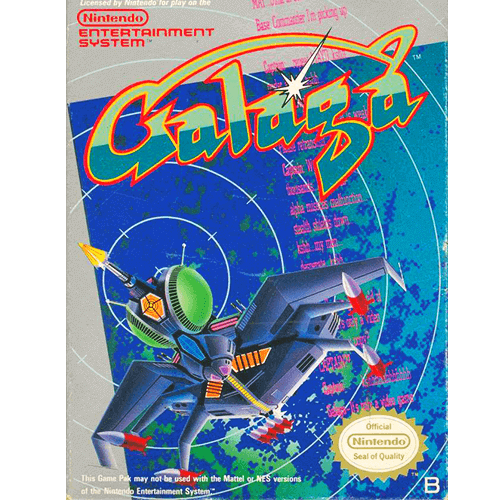 Galaga was released in 1981 by the Japanese company Namco, and was later released in America by Midway. Some early gamers might remember a similar game, "Galaxian," which was released previously in 1979 — Galaga being an extremely popular sequel to Galaxian.
Gameplay:
Galaga is a one or two person shooter game in which you are basically a spaceship at the bottom of a dark space-field. Suddenly, an army of geometrically-positioned alien spaceships descends, and you must defend yourself and your planet from annihilation! It's actually a simple system (shoot the spaceships until they are all gone and also …don't die) that becomes more difficult, as those spaceships move increasingly fast, and they do shoot back. They can also capture your ships. There are 255 levels to Galaga, so there's plenty of game to challenge you.
Gamer's tips:
In upper levels of the game, your partner spaceship may get stolen. If you can shoot the enemy ship that stole it, you will be awarded with a ship that has double firepower.
Play It Online:
http://www.free80sarcade.com/galaga.php
More About This Game:
https://arcadeclassics.net/80s-game-videos/galaga/
https://gaminghistory101.com/2012/03/22/galaga/