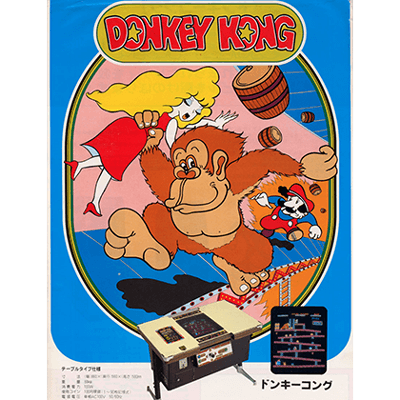 Donkey Kong was an extraordinarily influential game created in 1981 by Nintendo, not in the least because it was the first appearance of their flagship character Mario.
Gameplay:
In the game, the player plays as plucky character, Mario- originally named Jumpman in this game – who attempts to save his girlfriend from the evil Donkey Kong, the gorilla. He takes her up a set of girders, which you then have to follow him up as he throws down barrels and fireballs, attempting to knock Mario off. It is one of the first games to have an actual storyline unfold onscreen inspiring countless more after.
Gamer's tips:
It's a little-known fact…
If you survive long enough to get to the 22nd level of one of the original games, Mario will be immediately killed because of a game glitch?  Or ..MAYBE because you are too powerful of a player and you must be stopped, either/or?  Probably they just ran out of levels they felt like programming!
Play It Online:
More About This Game: